If you're looking for somewhere to stay so that you can watch, or take part in the Thames Match – or any other event in the Gravesend area of Kent – "Thames House" is available. It can provide bed & breakfast all the year round.
Two rooms are available. The top floor room (third floor) can be a twin bedded room if required, and it has a luxury en suite shower room. The room on the floor below (second floor) is a double room with private adjacent bathroom. Both rooms have extensive river views. Guests are also welcome to use the garden and summer house.
Accommodation can also be arranged in "Mission House" across the road. This has a double room and a childs' room.
Enquiries: mobile 07805 477 973 or e-mail: clairefiona.brown [at] virgin.net
The website is here or at: www.thameshousebandb.com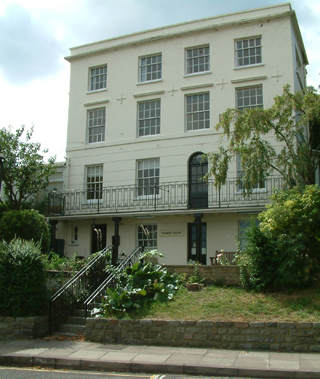 Thames House as seen from Royal Pier Road DA12 2BD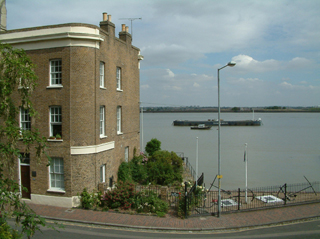 The view of the River Thames, with Anchor
Cove in the foreground as seen from Thames House. The
building on the left is "Mission House".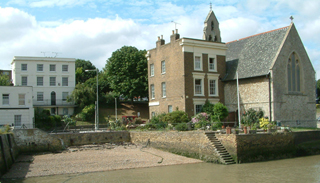 Anchor Cove as seen from the river. Thames
House is the three story white building on the left. The building on the
right is a former church which is now St. Andrews Arts Centre. The
brown three story building in the centre is Mission House, which has
a flagstaff in its riverside garden. This is used for the finish
line of the Thames Match each year.
Images supplied by Claire Brown, May 2009