SCENES FROM GRAVESEND – BEFORE & AFTER THE EVENT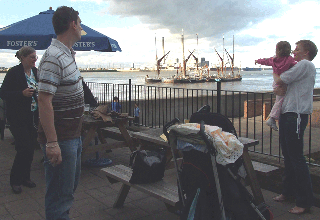 Looking down the River Thames. The picture right, is an evening view from the Three Daws  riverside inn, a Grade II Listed Building next to the Town Pier at Gravesend. The majority of the competing barges berth on PLA Lighter No. 3 on the Friday evening before the match. Tilbury Power Station, with its two conspicuous chimneys is in the background.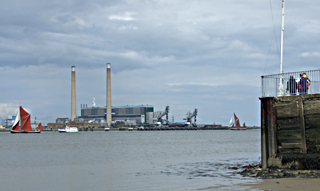 The view from Anchor Cove looking across to Tilbury Power Station. SB Decima [left] is about to cross the finish line and is being closely followed by the Princess Pocahontas, with spectators on board. SB Thistle [right] is not far behind. The Cove, just off Royal Pier Road between Mission House and the riverside garden of the former Royal Clarendon Hotel [now being re-developed into riverside apartments] is a  good place to watch the barges cross the finish line.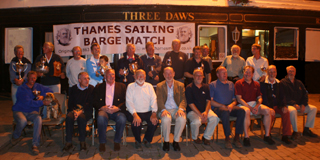 A supper for the barge crews and following vessels takes place in the evening, followed by the presentation of prizes in the Three Daws. Afterwards  the masters of each competing barge muster outside with their prizes [back row].  The prize presenter and the Match Committee [front row]  also make up the group and they all have their photo taken. Henry Dodd looks over them approvingly, as his legacy, which he began in 1863, endures for yet another year.